The cooperative insurance industry began in the late 1800's as farmers found that large companies refused to insure rural property. Local community leaders, many affiliated with the Grange movement, organized cooperatives that enabled their members to insure each other.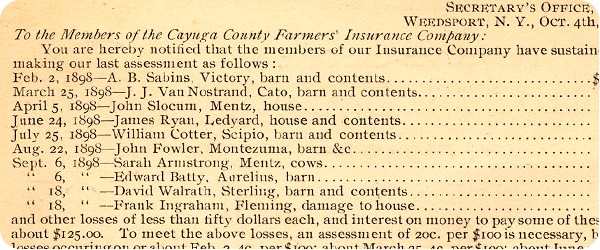 The cooperatives issued policies on demand but charged no premiums until October after crops were harvested and they could total the year's expenses and insured losses. That total became policyholders' "assessment".
Premiums were low when losses were down and high when losses were up. Annually the cooperatives zeroed out their accumulated losses and expenses, from year to year carrying forward no surplus or reserves.
Hundreds of such companies formed in New York State alone. After many mergers and other consolidations over the years, about three dozen remain in New York State today. In fact, Midstate is the succeeding company from eight original companies with the last merger occurring in 1986.
Because their operating territories are confined to one state, such companies are known as "regionals". Regional companies continue to serve a vital role in providing insurance in locations and for risks that the national carriers are unable or unwilling to serve.
The corporate structure remains largely the same today. Midstate Mutual Insurance Company® is still an "assessment cooperative". But Midstate Mutual now charges a premium as each policy is issued and maintains reserves and surplus to moderate premium price fluctuations from year to year.

The scope of Midstate Mutual's activities today extends well beyond farming, and includes much more than the simple fire policies of the 1800's. The company continues focus on property insurance and does not offer other types of insurance such as auto, workers compensation, bonds, or life and health policies.