All U.S. insurance companies are chartered in an individual state and licensed to operate in one or more states. Midstate Mutual Insurance Company® is organized under Section 6600 of the New York Insurance Law as an "Assessment Co-operative Insurer". Other company forms permitted by law are, Advanced Premium Cooperative, Mutual Insurer, and Stock. In cooperatives, no stockholders exist to receive dividends.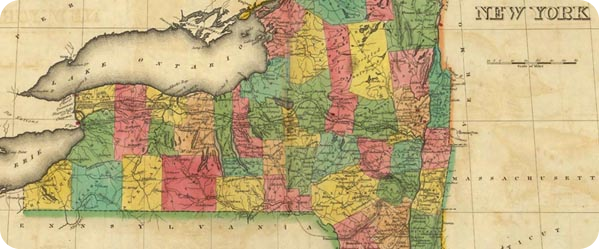 A mutual company saves surplus or distributes them to its policyholders. Thus mutuals need not drain off surplus to pay dividends to stockholders. However, unlike stock companies, mutuals cannot sell shares to raise new surplus if necessary to meet its "promise to pay" under statutory accounting principles. It is obviously essential to maintain enough surplus to cover policyholder losses. Surplus adequacy is measured by the premium-to-surplus ratio, also called "leverage".
Territory and Licensing
Midstate Mutual Insurance Company® is licensed to do business in all of New York State except New York, Kings, Queens, Bronx and Richmond counties. It cannot serve policyholders outside New York State. Its charter and by-laws require an annual meeting, selection of directors and the naming of certain required officers and executive committee. Policyholders may view the company by-laws on the inside of their policy jacket.
Insurance History
Insurance has roots back many hundreds of years, but most companies started as a way to pool small contributions from many people to cover unforeseen losses of a few. Midstate Mutual Insurance Company® still pools the premiums from each policyholder and invests them until needed to pay claims.
Even as a regional, Midstate Mutual performs functions expected of any national company, such as appointing agents, issuing policies, collecting premiums, paying claims and maintaining reserves and surplus against losses. The company files the same annual statement as the national companies and is subject to nearly all of the same insurance laws and regulations.